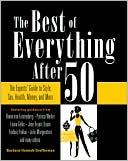 When Grufferman herself turned 50 she went about finding out from New York's experts how women could achieve and sustain their best selves after 50. Consulting doctors, financial planners, fashionistas and trainers, she discovered that there's life (and a pretty darn rewarding one) after 50. The best part is, this is the kind of book you don't need to read from cover to cover – you can dip into it and find out as little or as much as you need.
I was personally interested in the chapter on skin care, since mine has been like the Sahara Desert for the past five years. What jumps to mind immediately is cosmetic surgery, but Grufferman eschews that route in favour of solutions that are more natural, low maintenance, inexpensive and offer lots of protection. What I learned is to look for products with peptides and antioxidants and to exfoliate like there's no tomorrow. She even recommends specific products, some of which are reasonably priced and some of which are high-end, but she gives you lots of choices. She does venture into the areas of Botox, injectable fillers, chemical peels and other things too, giving women the option to go beyond natural solutions.
I was also interested in fashion, since the 50+ women is basically ignored until she reaches the age where elastic-waist pants and sensible lace-up shoes become wardrobe staples. Grufferman outlines the must-have pieces every 50+ woman should own and even tells you which designers flatter older women's figures. When recommending designers she includes those that fall into a wide price range, so that those of us with Nine West shoe budgets won't be put off by her Prada-priced suggestions.
On the financial front, Grufferman goes beyond the usual investment advice to talk about things like disability insurance, long term care insurance and life insurance. And of course she stresses the importance of finding a reliable and reputable financial advisor.
There's lots to learn from this book if you're a woman of a certain age, and I recommend it to all of you fabulous fifty-and-over women who might think it's all downhill from here. It's certainly not. And as our society ages, there are more and more of us around, so we'd better get with the program if we want to stay healthy, gorgeous and financially stable into our 80s and 90s. Let's all NOT wear purple, okay? For
other popular reading suggestions check out Richmond Public Library's Web site at

www.yourlibrary.ca/goodbooks/

.