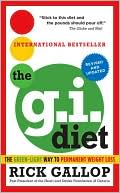 We all want to feel healthy, yet be able to eat great food at the same time, right?

I'm sure there are people who think that these two concepts are mutually exclusive, but I'm here to tell you they're not.
In my own quest for healthier eating I came across a book about the glycemic index specifically for menopausal women, called The G.I. Diet Menopause Clinic by Rick Gallop, and it's Canadian, no less!

According to this book, menopause is the major hormonal trigger causing women to gain weight. (Well, that explains a lot right there.) Many of the changes that menopause and post-menopause bring are tied in with health, energy level and increased weight gain. Applying the concepts from the glycemic index diet to the special needs of hormonally challenged women, author Gallop teaches women how to eat properly and lose weight, plus he offers lots of recipes to keep the weight off.
The
G.I. Diet: The Green-Light Way to Permanent Weight loss, also by Rick Gallop, uses the red, yellow and green light system, which gives examples of foods to be avoided, foods to be considered with caution, and low glycemic index foods, or ones that are good for you, based on a number of factors. He takes the reader through the whole gamut, from how to cook food properly, to how to change your eating habits, to how to accommodate going to a restaurant, to exercise and general health. There's a lot more to this diet than what I've described so anyone who's serious about weight loss and improving their health should check it out.
And finally, a book called The Glycemic Load Diet Cookbook by Rob Thompson and Dana Carpender is full of easy recipes to keep you healthy. The concept of "glycemic load" differs slightly from "glycemic index" in that it takes into account
not only how quickly a certain food is converted into sugar in the body but also how much sugar a particular food contains.
So
if you really want to get the skinny on blood sugar,

check out these and other library books on the topic.

For

other popular reading suggestions check out Richmond Public Library's Web site at

www.yourlibrary.ca/goodbooks/

.